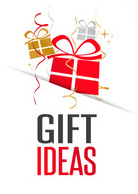 Welcome to our new website, AFewGiftIdeas.com, where we will be listing our daily ideas for simple but great ideas. During the holiday season, many people stress themselves out on finding the right gift for their friend or loved one. All this worrying takes a the fun out of shopping! So we created a site where we keep our gift ideas simple and to the point. We found gifts that your loved one will enjoy. These gifts can work for any occasions like birthdays or holidays like Christmas.
If you like to contact us or have questions, you can send us a message by email.
If you would like to read our affiliate disclosure policy, you can read it here.