This Halloween are you scared of not having a great party costume? If you are in a rush to find a good Halloween costume idea for this season, you have some time because Halloween falls on a Saturday this year so you don't have to worry about going to early parties! If you don't have any good ideas on what to wear for Halloween, don't worry because found the 10 most popular costume themes this season! If you are looking for matching couple's costumes or a costume theme for a group of friends, these costume ideas will work too!
Baby Yoda Costumes & the Mandalorian Halloween Costumes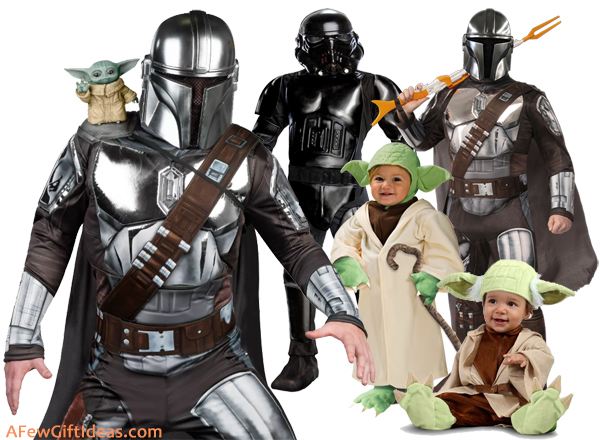 Even though Star Wars fans know that cute little green alien baby in The Mandalorian series on Disney+ isn't supposed to be called "Baby Yoda," everyone can't stop referring to everyone's favorite alien infant as Baby Yoda! Known as The Child in The Mandalorian TV series, the breakout star of the show has stolen the hearts of fans around the world! It's to nobody's surprise that Baby Yoda, the mysterious Mandalorian, and the rest of the characters from the Star Wars Disney+ series are popular Halloween costumes this season! So now is a chance to get your child that Baby Yoda Halloween costume or the Mandalorian Halloween costume before they sell out!
Wicked Witch Costumes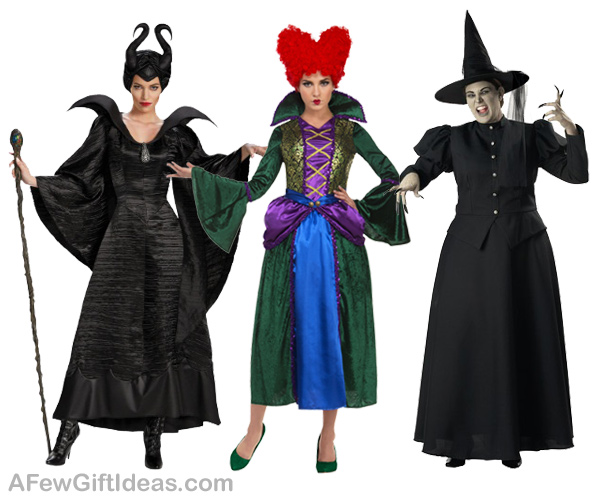 Witches are another popular costume this season. You can choose a witch Halloween costume inspired by memorable bewitching characters from popular movies such as the original Wicked Witch from The Wizard of Oz, Bette Midler's Winifred from Hocus Pocus, and Angelina Jolie's evil sorceress Maleficent. If you don't want to go as a famous witch, there are plenty of unique and different witch costumes available in all range of sizes including toddlers, children, adults, and plus size witch dresses for full figured women!
Political Masks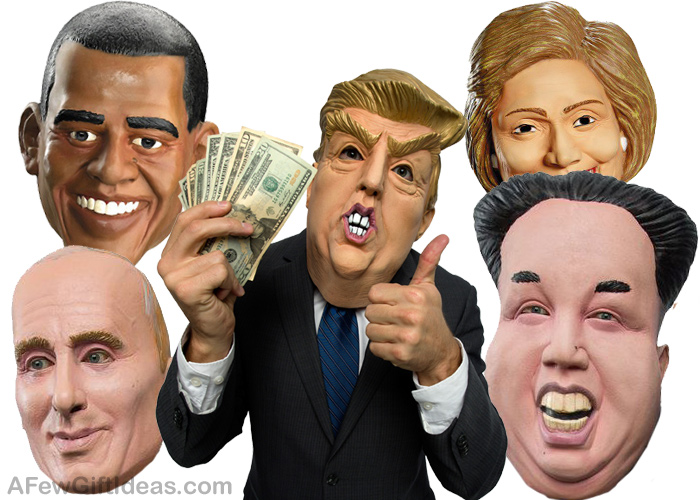 Due to all the controversies and scandals in American politics today, political masks are very popular this year. You can mask yourself as President Donald Trump, his political rivals like the Obamas, Clintons, Biden, or Sanders. You can even disguise yourself as controversial foreign political figures like North Korea's Kim Jong Un or Russia's Vladimir Putin for Halloween.
Clown Costumes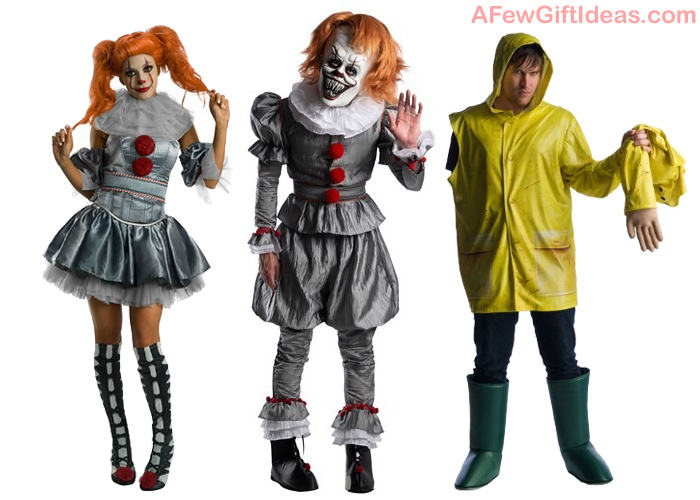 Clowns.  It's no surprise, clowns once again make the top of the list of best costume ideas again.  Some people have some unusual fear of clowns and Halloween tricksters love to prey on that fear.  The hit movie It and the sequel have made their killer clown character Pennywise a popular clown costume this year.  You can even dress up as a women version of Pennywise. Plus size Pennywise costumes for big and tall guys are available too. If you don't want to go as Pennywise, there are plenty of other scary clown characters that you can go as:  see more clown ideas here.
Stranger Things Halloween Costumes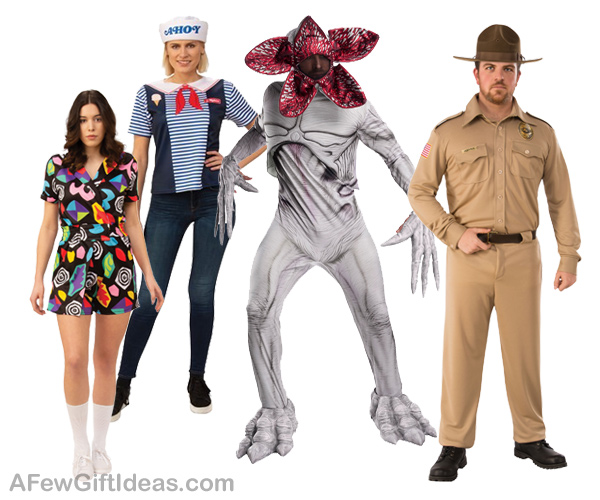 If you subscribe to Netflix, you won't be shocked to find out that the characters from Stranger Things series are still a popular costume theme, especially with fans who keep the show popular months after the release of season 4. Even though we have to wait a while for a season 5, you can dress up as your favorite characters for Halloween! You have a wide variety of character costumes to choose from. You can dress up as Hawkin's Sheriff Hooper, Eleven in her stylish '80s shopping mall dress, Steve and Robyn's Scoops Ahoy uniform, Dustin in his trademark baseball cap and Waupaca t-shirt, or even the scary Demogorgan monster from the Upside Down underworld! The sailor suits design for the ice cream parlor's Scoops Ahoy uniforms that the twosome wear on the show have been very popular. These Scoops Ahoy Halloween costumes also make a great couples costume for Halloween parties!
Joaquin Phoenix Arthur Fleck Joker Costumes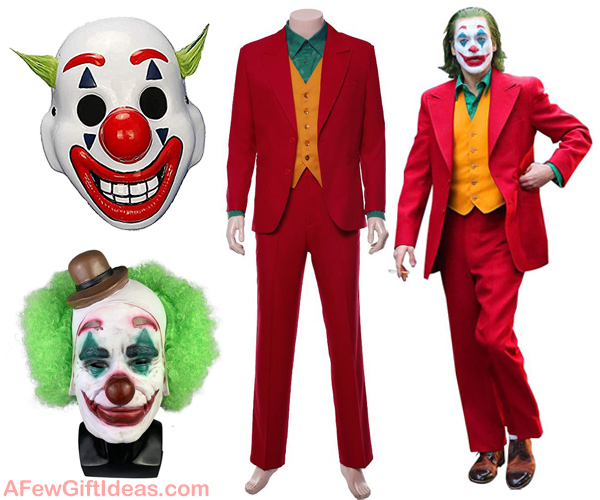 Speaking of clowns, last year's Joker film by director Todd Phillips became a surprise blockbuster and still a popular costume theme! This latest version of the Joker featured Joaquin Phoenix as the legendary villain Arthur Fleck who transforms into the Joker. The movie was more of a dramatic character study than a typical superhero movie. Audiences were intrigued enough to make this one of the most popular Halloween costumes this season.
Eighties Halloween Costumes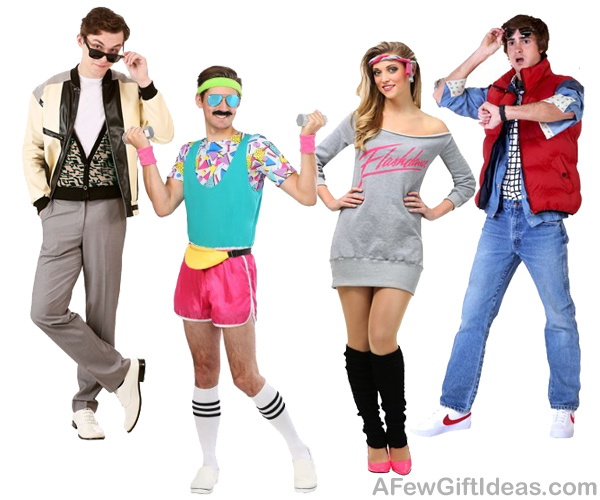 Due to a number of hit '80s nostalgia television shows like Netflix's Stranger Things, GLOW (Gorgeous Girls of Wrestling), The Goldbergs, and American Horror Story '84, fans are searching for eighties costumes that recreate their favorite TV characters. Classic Eighties movie characters are also popular like Ferris Bueller, Marty McFly and Doc Brown from Back to the Future, Goonies, and Beetlejuice. And also strangely enough, classic '80s Jazzercise aerobic and workout clothing are in demand too! If you are a Gen-X'er or someone who appreciates this generation's pop culture, these Halloween costumes will be perfect for you!
Video Game Costumes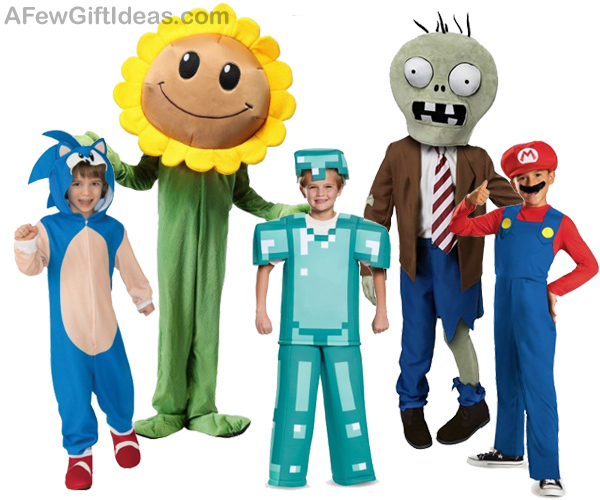 Video games play a big part in popular culture these days with people of all ages! So it's no surprise to see Halloween costume versions of your favorite video game characters available online. These popular video games include Super Mario Brothers, Sonic the Hedgehog, Minecraft, Plants vs Zombies. If you can think of any mainstream video game character, there is probably a costume for it. They make these costumes for both kids and adults so everyone can join in the fun for Halloween. If the game Fortnite interests you more, then check out our next one below.
Fortnite Halloween Costumes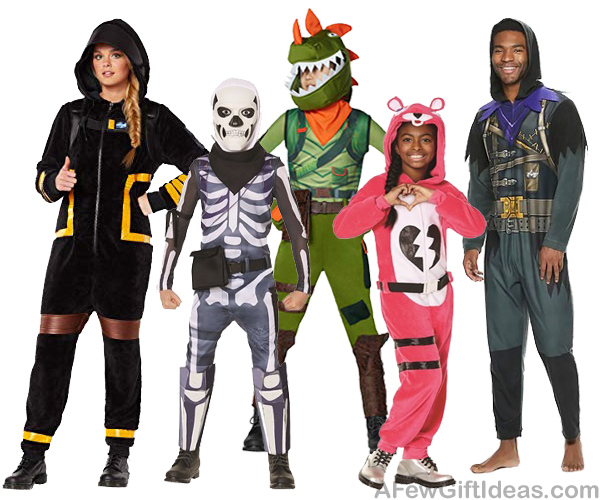 Speaking of video games, the biggest gaming phenomenon this year is Fortnite. This creative multiplayer game allows gamers to choose from a rich range of characters and add "skins" which are virtual costumes for their Fortnite characters that make them more distinguished in order to stand out from the online crowd. This premise creates a perfect opportunity for diverse variety of Fortnite Halloween costumes such as the Cuddle Team Leader, Raven, Skull Trooper, Dark Voyager, Rex, and many more!
Deadpool Halloween Costumes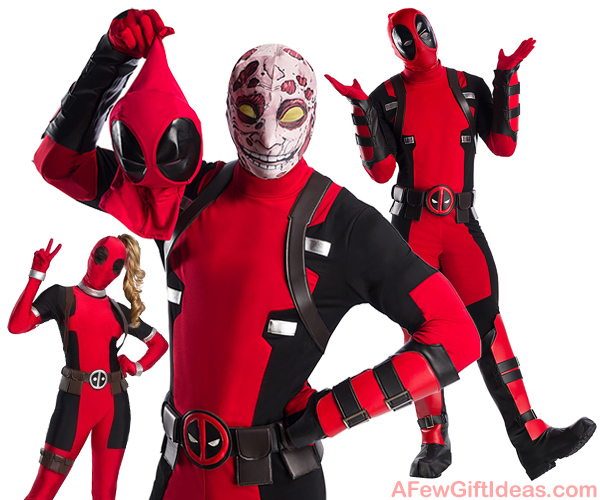 Out of all the superhero costumes available, Deadpool aka Wade Winston Wilson is the Halloween costume young adults want to suit up as! Some may think its the movie character's insane hyperawareness and raunchy comedic personality that makes him unusually attractive to so many people. Even women can also dress up as this mouthy character in their own female Deadpool costume! If you like this anti-hero, you have plenty of styles to choose from!