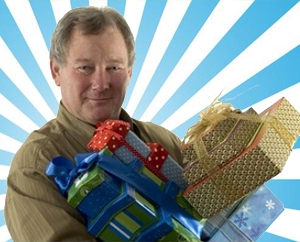 When buying a birthday gift for someone who has everything, how do you find something he hasn't got yet? It is important to remember that price does not matter because he most likely has the income to afford just about every gadget or toy he wants. So when trying to figure out the right birthday gift for this person, you want to find him a thoughtful present, not a pricey one. As cliché as it sounds, give something from the heart that will be meaningful and/or sentimental.
Try remembering where the first time you two met and get a gift from that location, making it a symbol of when your friendship began. Get a gift that alludes to a possible inside joke you have together. No matter who you are, if this person is worth spending all this time thinking of a gift for, you must be close enough to have inside jokes or things only you two would get. Put some thought into it as well. For example, if you two met at a coffee shop, don't just get a gift card to that store. Try something like taking a picture at the seat you were sitting when you two first met and framing that picture for him.
The present does not have to be something material. You could dedicate the whole day to that person and go to all of his places. You could also go the route of creating something special for him. If you aren't good at making things, you can personalize something for him. For example, you could personalize a shirt with a special message or a funny nickname. If you want to be more generous, you could take him on a nice road trip or vacation. He may have everything, but a trip is a life experience and memories that you can't buy at the store. Again, this trip does not have to be expensive. You could do something like a three-day cruise which is a fair price these days.
If none of these suggestions appeal to you, just get him something he already has and add a personal touch. Like your parents told you, it is the thought that counts at this point. It is more the effort that you have put into it that matters. For example, get him a wrist watch; of course not the exact same watch he has. With the watch, you should put a personal touch such as engraving on it.
Any personalized gift that reminds him of you is what you should be shooting for. The more personal, the better. This is why you shouldn't ask a sale person who doesn't know your friend for what to get. You should be able to figure it out on your own! An outsider might not completely understand want your friend likes or dislikes. You should make the gift something that is more intimate. So when you try to finally figure out this gift don't be discouraged. Always remember that it is the thought that counts. As long as you're thinking of him while getting the gift, you cannot go wrong. If you are still not sure and don't have time to get him that personalized gift, check out these suggestions here: